There are some myths about dogs that surround our lives and our daily lives. Mainly because there is little study and knowledge in the past, several types of unfounded theories ended up permeating the coexistence of dogs and tutors.
In this article, you will understand a little more about these myths and how they cannot be considered true. So, read on and dig deeper into the topic. Who knows, you might find yourself believing some myth about dogs.
Discover the main myths about dogs
In other words, there is so much talk about it that it ends up becoming an intrinsic truth by repetition.
But when someone reads, analyses, studies and rationally reflects on the topic, they end up realizing that, in fact, things are not quite like that.
The purpose of this article is to show you that some things "are not quite like that" with our best friends . Some myths about dogs turned out to be "truths". But, in practice, there is no evidence and scientific evidence on the subject.
Some of the top myths about dogs are these here:
Older dogs are stubborn and won't learn new commands;
The dog's human age is 7 times the animal's age;
Dogs eat grass to vomit and clear their stomachs;
Power play makes your dog aggressive;
Dogs don't see colors;
When a dog's muzzle is hot, it's because he's sick;
Wagging the tail is a sign of joy and fun;
Raw dog meat is healthy;
Grooming the dog in summer makes it feel less hot;
Identified with any item? Have you ever heard of any of these myths about Dog?
Yeah – everyone who loves dogs, somehow, has heard about these items. So, from now on, let's understand them more deeply and discover some interesting things about these traits that are actually myths about dogs.
Older dogs are stubborn and won't learn new commands
This happens because we have a tendency to humanize the dog , so that we condition him in occasional situations that happen to humans.
In the case of the elderly life stage, of course, there are some limitations in the animal's life. However, he remains a fully trainable and manageable dog, as long as some precautions are taken into account precisely because of his age.
After all, dogs like routine and balance in the environment.
This need is even greater in the elderly phase. The less sudden changes the environment has, the better for your old dog's quality of life.
The human age of the dog is 7 times the age of the animal
In other words, one year of a dog's life is worth how many years of a human being's life is worth? The answer to this question is often the sum of 7 years of age for the animal. So a one-year-old dog would have 8 human years.
However, this is a myth about dogs.
There is no way to add up the human age simply by adding 7 years to the animal's life. After all, each dog is unique, each breed is unique, with unique needs and a type of quality of life.
Basically, you will have to consider the development issues and life stages of the pet. Age can be "compared" to human age when you consider the pet's life stage. But even so, it's only an approximate way – and not necessarily real.
Dogs eat grass to vomit and clear their stomach.
One of the most popular myths about dogs is the fact that when dogs eat grass, it is because they want to induce vomiting to cure an upset stomach. Well, that's not true.
Dogs don't eat grass to simply treat an upset stomach .
They can even eat grass because they feel something "weird". But they will never do this to induce vomiting and thus clear the stomach.
Dogs eat grass because they like it. The smell, taste, texture and feel are good for the canine instinct. And grass turns out to be a good "salad" option that pets simply like to eat.
Therefore, it is very important that you take care that the dog does not eat plants that can be harmful. Unless it's common grass, of course. However, simply letting dogs eat any green they come in contact with is unhealthy.
Don't think he has a stomachache and wants to vomit to get over the pain, ok?
Dog Myths – Power Plays Make Your Dog Aggressive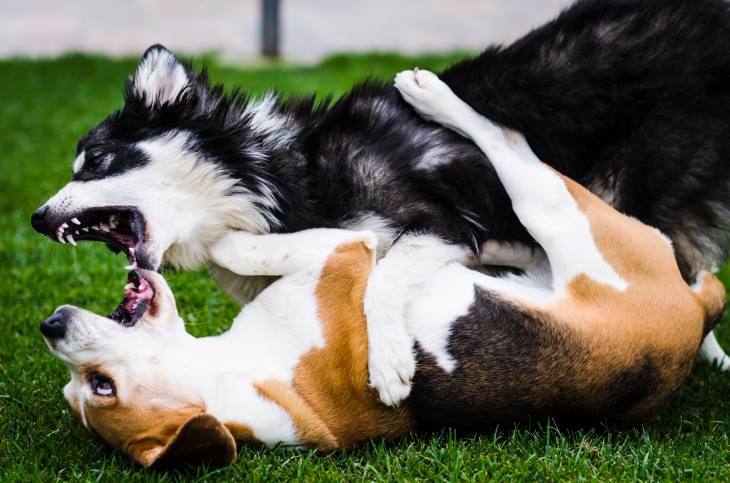 The dogs need to spend physical and mental energy so there are no problems at home, such as pillows or destroy chew slippers. However, some handlers do not like to encourage or let the dogs play with biting or pushing, as they feel that this will condition them to be aggressive.
But this is a myth about dogs. The dog aggression arises in other ways.
Power games, like tug-of-war, don't hurt the dog. On the contrary: they are good. This makes them spend energy in a very promising way, and the tutor ends up participating in a game that will generate a connection.
Of course, you should measure your strength so you don't compete with the dog dishonestly. After all, if he bites too hard and you pull too hard, his little teeth can be injured.
Myths About Dogs – Dogs can't see colors
Another myth about dogs.
Dogs see differently from us humans. However, they do see some colors, such as red and blue. In other words: dogs don't see only in black and white, as the myth has spread around.
Compared to us humans, dogs see much less color. After all, we are able to "generate" other colors from the primary colors: blue, red and yellow.
However, dogs cannot distinguish these colors and they do not "create" other noticeable colors.
Therefore, they end up seeing colors, only less intensely and less distinguishable. In other words, they don't just see in black and white.
When the dog's muzzle is hot, it's because he's sick
Of course we care about our dog's health . However, we need to beware of some myths about dogs that can put our anxiety and worry up there when it isn't necessary.
But yes, it is a sign of the temperature of the environment he was in.
Of course, there are situations in which the muzzle can indicate problems, such as: it is peeling, when the dog feels pain, discomfort and other specific characteristics. However, just the heat in the snout does not indicate that the animal is sick. This is a myth about dogs.
Myths about Dogs – Wagging the tail is a sign of joy and fun
Is your dog sad or happy? Simple: just look at his tail. If it's swinging, it's because he's happy. If he's stopped, it's because he's mad.
Well, most of the time, tail wagging can even mean joy. However, this is a myth. The dog wags its tail, too, when it's having other sensations.
The act of wagging the tail is a reflection of sensations that can be: joy, anxiety , stress, fear and even aggression.
So be careful. Look carefully at the context of the situation. A dog can wag its tail and, in moments, be aggressive. After all, he is a dog. And dogs have canine instincts.
Raw meat for dogs is healthy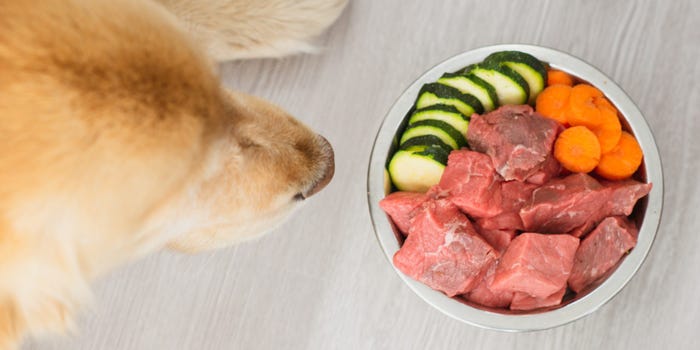 As much as a dog is a carnivorous animal, giving him raw meat is not a good solution to meet his needs. For this, there are many types of healthy and suitable rations for each breed and stage of the dog's life.
The dog needs many other nutrients to have a healthy and long life. And meat alone will not meet these needs. Feeding based on raw meat is a myth about dogs.
Grooming the dog in summer makes it feel less hot
Finally, grooming is not beneficial to the dog in summer. We are the ones who feel "warm" when we see the dog full of fur in summer.
Dogs even use their fur so that the heat is not so intense, in order to maintain a comfortable body temperature to face the hottest temperatures.
Even during the summer, the dog will have its fur change . Therefore, he will even lose hair and feel more comfortable on hottest summer days. And if you clip them, they can grow wildly and they can grow wrong for the winter.